Check out today's freshest and funniest content on our new, improved GoComics homepage! (It's cherry-flavored!)
Visit Now!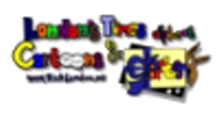 londonstimes Free
Thank you for visiting Londons Times Cartoons, the #1 Google & MSN ranked offbeat cartoons on the Internet. We hope you enjoy your visit. :)
Comics I Follow
All of your followed comic titles will appear here.
For help on how to follow a comic title, click here